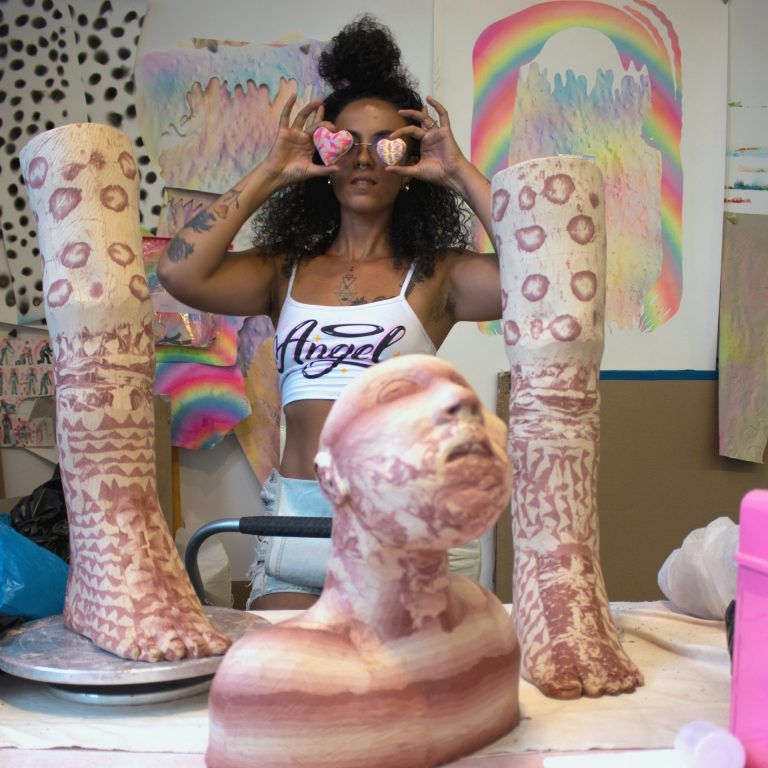 Amaryllis R. Flowers
Contact
Amaryllis R. Flowers is a Queer Puerto Rican American artist living and working in Brooklyn, NY. Raised between multiple cities and rural communities across America in a constantly shifting landscape, her practice explores themes of hybridity, mythology and sexuality. Her work is a visual language paying attention to the spaces in-between categories, and revering those that know the trouble and pleasure there.
Utilizing drawings, video, sculpture, performance and installation, Amaryllis creates symbol-sets to navigate and describe our world. Drawing inspiration from visual systems of communication such as comics, cartoons, codices, Egyptian scrolls, sympathetic magic, Caribbean Surrealism, and alchemical diagrams for transformation, her work interprets dream logic to favor the invisible over the material, reflecting the experience of haunting in order to think through the gray areas within life; being neither here nor there.
Amaryllis earned an MFA from the Yale School of Art in 2019 and her BFA from California College of the Arts in 2014. She is a 2022 Joan Mitchell Fellow, a 2021 Creative Capital Awardee and a 2019 Kindle Project Makers Muse Award recipient. Her work has been exhibited both nationally and internationally including at the Brooklyn Museum, El Museo Del Barrio (New York), The Aldrich Museum of Contemporary Art (Ridgefield, CT), MoCADA (Brooklyn), and SOMArts (San Francisco).
Featured Work: