The symposium is hosted by the Center for Puerto Rican Studies at the Silberman School for Social Work in El Barrio from May 12th to 13th.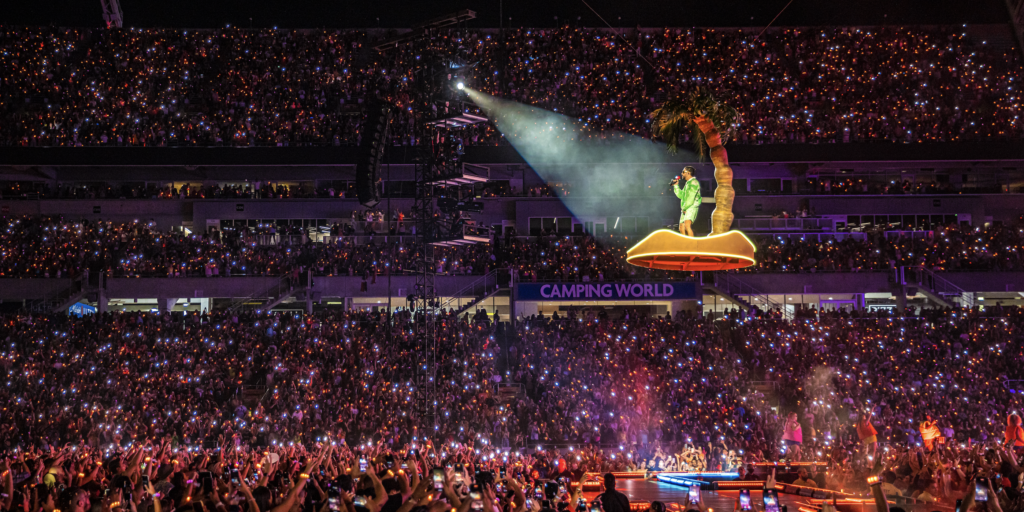 The Center for Puerto Rican Studies at Hunter College (CENTRO) has released the full roster of panels and guest speakers for its upcoming free symposium "Thinking with Bad Bunny: Cultural Politics and the Future of Puerto Rico" including academic panels, workshops, and a closing reception to be held May 12-13 as part of their 50th Anniversary celebrations.
The event will bring together scholars, journalists, musicians, and cultural critics such as Petra Rivera Rideau, Jonathan Rosa, Miguel Zénon, Angélica Negrón, Alana Casanova-Burgess, and Suzy Expósito to discuss what the rise of global mega-star Bad Bunny reveals about Puerto Rican cultural political futures. The symposium will tackle the role of reggeatón and trap in Puerto Rican culture, as well as the politics of race, gender, and Latinidad in the music industry. Additionally, the symposium will address the social context of Bad Bunny's music and the role of celebrity in political activism.
"Bad Bunny has emerged as one of the most important and influential voices in contemporary Puerto Rican and Latin American music, and has effectively captured the global imagination. We are thrilled to offer this symposium as an opportunity to explore and debate the cultural and political significance of his work in ways that will be of interest to both his fans and critics," said Yarimar Bonilla, Directora of CENTRO.

Bad Bunny's rise to fame has paralleled the archipelago's economic crisis, disasters, and emerging political movements with his music serving as a soundtrack to recent cultural and political transformations. However, this rise to fame has not come without criticism as not all Puerto Ricans celebrate him. While some see Bad Bunny as an icon of Boricua pride, others condemn his lyrics, question his fame, and voice valid concerns around cultural appropriation and racism.
Bad Bunny, born Benito Antonio Martínez Ocasio, has quickly become one of the most influential Latine artists of the 21st century. He had the first Spanish-language album to top the Billboard charts, was the first Spanish language act to win MTV's artist of the year, and the first Latino to grace the cover of Billboard magazine. He has been named Spotify's most-streamed artist two years in a row and Apple Music's 2022 artist of the year– all while speaking to Puerto Rico's complex reality. Most recently, he was featured on the cover of TIME magazine and is the first reggaetón artist to headline Coachella with a performance that honored the origins of the genre in Puerto Rico and Panama while also paying homage to salsa icons like Celia Cruz and Johnny Pacheco.
"This symposium is an example of the kind of work CENTRO seeks to promote across all our units. It is a vehicle to convene scholars, journalists, artists, and community members to have compelling conversations across generations and disciplines about the pressing and transformative issues of our time " Bonilla continued.
The symposium will take place in person at the Silberman School for Social Work situated in the iconic neighborhood of El Barrio, the current home of CENTRO's Library & Archives. It will also be available to stream for those who cannot join in person. The closing keynote on May 13th will be followed by a reception with music curated by AGENT DMZ.
WEDNESDAY, MAY 10TH (RSVP HERE)
Hasta 'Bajo Project Workshop: Exchanging Cultura "Urbana" Between La Isla and Diaspora | Virtual at 3:00pm
As a kick off to the Bad Bunny symposium, CENTRO will be hosting an educational workshop by the Hasta 'Bajo Project—the first historical archive of Reggaetón in Puerto Rico. With a focus on the role that the Puerto Rican diaspora has played in the history of Reggaetón, the aim of the workshop is to encourage participants to explore new perspectives on the history of Reggaetón and its educational potential.

FRIDAY, MAY 12TH (RSVP HERE)
Opening Keynote
From Carolina to Coachella: Bad Bunny and the Global Rise of Reggaetón | 10-11:15am  
Join us for an opening Keynote with Petra Rivera Rideau, Associate Professor of American Studies at Wellesley College and Alana Casanova-Burgess of WNYC and the hit podcast, La Brega. The keynote will serve to situate Bad Bunny within the three decades of history of reggaetón.

Queering Reggaetón | 11:30am-12:45pm 
From dressing in drag for his music videos to expressing support for the trans community in Puerto Rico, Bad Bunny has sometimes been seen as an outlier in the genre of reggaetón—an artist that subverts the machista and homophobic stereotypes common in the genre. However, he is not the first or only artist to do so, and many in the LGBTQ+ community believe more attention should be paid to performers who explicitly identify as queer. Join Larry LaFountain, Professor of Spanish, American Culture, and Women's and Gender Studies- University of Michigan at Ann Arbor, Verónica Dávila Ellis, Assistant Professor of Spanish at James Madison University, and Dozandri Mendoza, PhD Candidate at Department of Linguistics at University of California in Santa Barbara, with moderation by Celiany Rivera, CENTRO Research Associate, to discuss these questions and think about the role reggaetón and perreo can play in imagining queer futures.

Mediating Bad Bunny | 2:00-3:15 pm
Join Katelina Eccleston, Reggaetón con la Gata, Suzy Expósito, Los Angeles Times, and Nina Vázquez, Hasta 'Bajo Project, with moderation by Jillian Baez, Associate Professor of Africana and Puerto Rican/Latino Studies at Hunter College, in speaking about their experiences covering Bad Bunny, reggaetón, and dembow in addition to their experiences using social media to give visibility to the black, female, and queer artists of the genre.
Playlist Loading: Listening to Bad Bunny | 3:30-5pm
Join musicians and composers Miguel Zenón, Angélica Negrón, Guarionex Morales and Daniel Alejandro Tapia of Orfeón San Juan Bautista, and musicologist Wayne Marshall, Assistant Professor of Liberal Arts and Science- Berklee College of Music, with moderator Sabrina Ortiz-Vázquez, Assistant to the Director of Arts & Culture at CENTRO, to talk about Bad Bunny and reggaetón as a musical genre. While some claim that ¡eso no es música! (This isn't real music!), our panelists will engage with the rich musical history of reggaetón and the other genres that contribute to it.
SATURDAY, MAY 13 (RSVP HERE)
Bad Bunny & the Politics of Representation | 10-11:15 AM
Fans have been reacting to rumors around Bad Bunny's personal life. What on the surface is celebrity gossip, underneath exposes important discussions on what it means to be the world's biggest celebrity and a Puerto Rican man. Join Vanessa Díaz, Assistant Professor of Chicano/a and Latino/a Studies at Loyola Marymount University, Laura G. Pérez Muñoz, PhD Candidate-Harvard University, Luis Rivera-Figueroa, Ph.D. student Radio-Television-Film department of The University of Texas at Austin, and Alyssa Maldonado-Estrada, Assistant Professor of Religion at Kalamazoo College, with moderator Daniel Vázquez Sanabria, University of Texas-Austin, in discussing topics such as image construction, race, transnational latinidad, and latine masculinities, among others.
The Political Landscape of P FKN R | 11:30-12:45pm
Join José Laguarta, CENTRO Research Associate, writer Carina del Valle Schorske, and Carla Santamaría, Assistant Professor of Latino and Puerto Rican Studies at Brooklyn College, with moderator Cristel M. Jusino Díaz, CENTRO Director of Public Humanities, in discussing how Bad Bunny has used his platform to bring attention to social and political issues in Puerto Rico, as well as how Puerto Ricans in the archipelago and in the diaspora think through some of these issues through the lens of Bad Bunny.
Bad Bunny Caribeño | 2-3:15pm
How can we understand Bad Bunny as a distinctly Caribbean artist vs Latin American one who moves between these cultural frames? Join panelists Jade Power-Sotomayor, Asst. Professor of Theatre and Dance at University of California-San Diego, Jossiana Arroyo, Professor of Latin American and Caribbean Literatures and Cultures at the University of Texas-Austin, Elyse Veloria, PhD student at Duke University, Alexandra Sánchez Rolón, PhD student at University of Pennsylvania, and moderator Sarah Bruno of Rice University in discussing how Caribbean culture and aesthetics are central to Bad Bunny's music, videos, and performance as well as how it engages with a specifically Caribbean audience.
Closing Keynote
Bad Bunny, Good PR: Race, Language, and the Politics of Vernacular Celebrity | 3:30-4:45pm
Join Jonathan Rosa, Associate Professor, Graduate School of Education at Stanford University and Yarimar Bonilla, CENTRO Directora, in a closing keynote that will examine how debates on language and racial identity expose the colonial contradictions of Puerto Rico and the modern world.

Closing Reception: Yo Perreo Sola | 5pm
The closing keynote on May 13th will be followed by a reception at the Silberman School for Social Work with music curated by AGENT DMZ. Join us for food, beverages, y música!