The exhibit will be on view from March 30, 2023 to September 30, 2023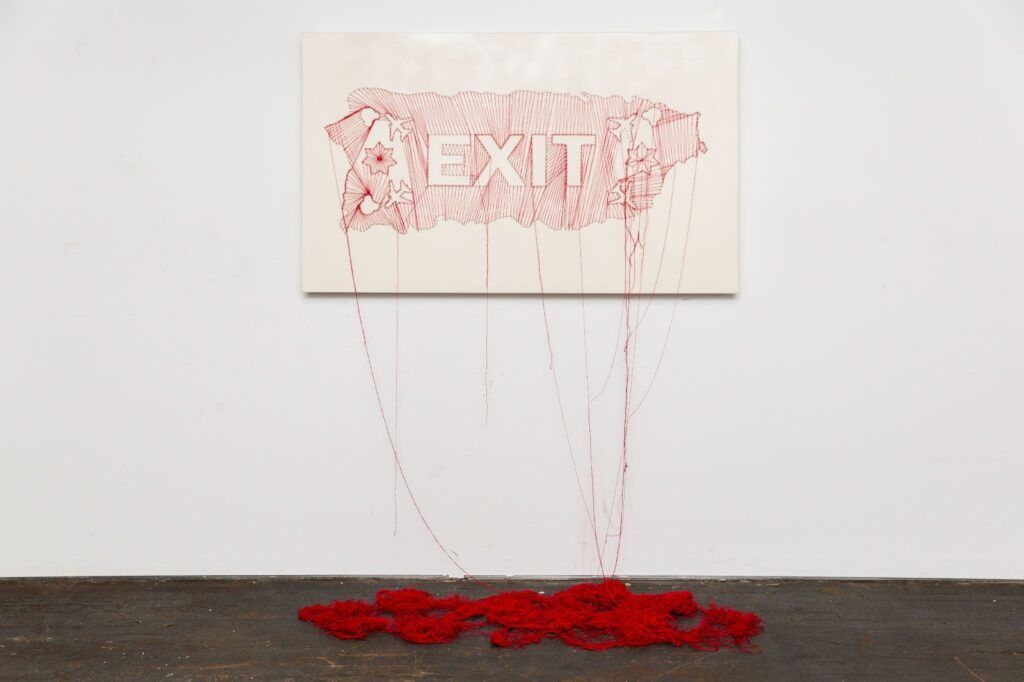 (New York, NY – March 14, 2023) The Center for Puerto Rican Studies (CENTRO) in partnership with Hunter East Harlem Gallery, has announced the opening of the exhibition, Ida y Vuelta: Experiencias de la migración en el arte puertorriqueño contemporáneo (Arrivals and Departures: Migration Experiences in Contemporary Puerto Rican Art), from March 30th, 2023 through September 30th. The exhibition, a major show featuring 19 artists whose works respond to the processes, causes, and consequences of traveling and living away from their place of origin, will mark the first time in ten years that CENTRO will be partnering with the Hunter East Harlem Gallery, neighbor to the CENTRO Library & Archives, as part of their 50th Anniversary celebrations.
"It is imperative that CENTRO continue to bring attention to our collective stories and examine our migration processes not just from analyzing data but also from an artistic perspective." expressed Ángel Antonio Ruiz-Laboy, Director of Arts & Culture at CENTRO. "The opportunity to collaborate with Hunter College Art Galleries after so many years allows CENTRO to impact Hunter students and faculty and to ignite new conversations about Puerto Rico's colonial relationship with the US." he continued.
Curated by Dr. Laura Bravo, the exhibition first opened in February 2017 at the History, Anthropology and Art Museum, University of Puerto Rico, Río Piedras Campus. The show suffered a temporary closure after the strike of Hurricane Maria in September 2017, reopening in December that year and inspiring timely conversations about the humanitarian consequences of this tragic event. September 2023 will mark six years since Maria's landfall in Puerto Rico. As Laura Bravo remarks, "The reopening of Ida y Vuelta two months after Maria allowed revisiting the exhibition in the context of the experiences of thousands of Puerto Ricans who left the island in dramatic circumstances. The show is also intended to examine how art can open questions about global ideas around migration, such as hybrid identities, mobile lives, and homesickness."
This exhibition features an updated bilingual catalogue created for its visit to Taller Puertorriqueño, with essays by Dr. Laura Bravo, Dr. Jorge Duany, and artists Dr. Quintín Rivera Toro and Dr. Brenda Cruz. As with the artworks on view, the texts written by these scholars and artists offer multiple perspectives on the psychological, economic, social, political, and other effects of migration on individuals.
The show is divided thematically into five parts:

1. Migration is a risky endeavor. This is a process that many people must face, regardless of geographical origin, when one's decision to leave or remain in one's home country must ultimately be made. Migrants tend to fantasize about their future destination, idealizing the circumstances in which their travel and stay might unfold.

2. Political, economic, or social problems as the leading causes of migration. Artists explore this grim scenario when trying to ascribe responsibilities for the Puerto Rican exodus.

3. Intermediate spaces between geography and memory. The migration experience does not imply abandoning one's culture or traditions. Family memories, homesickness, objects, native language, friends, or geographical origins reappear in the migrants or are even symbolically present in their new spaces. Transnationalism and bifocal lives are critical concepts in migration and this exhibition.

4. A life in constant transit. The traditional concept of migration as an exclusively one-way trip to a permanent destination has been transformed in recent years by a model in which recurrent or multidirectional transit between different spaces is the norm. Mobile lives or circular migration are concepts related to this phenomenon.

5. Displaced identities. Migration has inevitable consequences for individuals, which can be psychological, physical, linguistic, or emotional in nature. As a result of moving from a tight space to a foreign one, previous and new habits or idiosyncrasies coexist. Identity, as a set of characteristics that are not fixed but mutable and dynamic, is transformed when migrants face a different working environment or even another climate.
As a parallel exhibition, Prelude presents a series of photographs by Puerto Rican artist Máximo Colón, taken in the 1970s in various neighborhoods of New York City. These black-and-white photographs highlight the protests staged by Puerto Rican immigrants in defense of their civil rights, the vibrant street life in the Lower East Side and Harlem, the celebration of Puerto Rican cultural traditions, as well as a series of portraits of some of the most iconic figures of this period.
Ida y Vuelta is a timely show that grapples with one of the central issues of our time: migration and its consequences. Featured artists include:
Abdiel Segarra Ríos
Adál Maldonado
Anabel Vázquez Rodríguez
Anaida Hernández
Antonio Martorell
Brenda Cruz
Carlos Ruiz Valarino
Edra Soto
John Betancourt
José Ortiz Pagán
Máximo Colón
Marta Mabel Pérez
Mónica Félix
Nayda Collazo Llorens
Norma Vila Rivero
Osvaldo Budet Meléndez
Pedro Vélez
Quintín Rivera Toro
Víctor Vázquez


The opening night of the exhibition will take place on March 30th at 6:30pm ET at Hunter East Harlem Gallery located in the Silberman School for Social Work (2180 3rd Ave, New York, NY 10035). The opening reception will include hors d'oeuvres, opening remarks, and music. It will be attended by some of the featured artists, Ida y Vuelta Curator Laura Bravo López and Assistant curator Donald Escudero.
To learn more about CENTRO and to RSVP for FREE to the opening night of the exhibition, visit centropr.hunter.cuny.edu.
About the Curator
Laura Bravo López holds a Ph.D. in Art History from the Universidad Autónoma de Madrid. She is a Professor in the Art History Program, College of Humanities, at the University of Puerto Rico, Río Piedras Campus. She has been a grant-funded researcher in different institutions in the United States, Spain, the UK, and France. Bravo has curated more than fifteen exhibitions in museums and art galleries in Puerto Rico and Spain, giving more than fifty conferences and talks in art institutions in eight different countries and contributing to twenty books on art history and visual culture. In the subject of migration, she was the principal investigator for the project El arte puertorriqueño y los recientes flujos de la diáspora, funded by the Office of Graduate Studies and Research at the UPR, Río Piedras Campus, and coeditor of Counterstreaming: Measuring the Impact of Cultural Remittances, a special issue of Centro: Journal of the Center for Puerto Rican Studies, Hunter College (CUNY, 2016) and Geopolitics of the Difference: Discussions on Gender and Migration in Contemporary Visual Culture, a special issue of Art and Identity Politics Journal (Universidad de Murcia, 2018). She is coauthor for the book Con la casa a cuestas: Migración y patrimonio cultural en el mundo hispano (Universidad Pablo de Olavide, Sevilla, 2020).
About CENTRO
Founded in 1973 by a coalition of students, faculty, and activists, the Center for Puerto Rican Studies at Hunter College (CENTRO) is the largest and oldest university-based research institute, library, and archive dedicated to the Puerto Rican experience in the United States. It provides support to students, scholars, artists, and members of the community at large across and beyond New York. Additionally, it produces original research, films, books, and educational tools and is the home of Centro Journal—the premiere academic journal of Puerto Rican Studies. CENTRO's aim is to create actionable and accessible scholarship to strengthen, broaden, and reimagine the field of Puerto Rican studies.
CENTRO is a treasured institution where researchers, academics, teachers, students, genealogists, filmmakers, and the community at large find primary (historical documents) and secondary sources about the history and culture of the Puerto Rican diaspora. Most facilities, resources, and programs in the City University of New York (CUNY) system are limited to affiliates of the University. In the case of CENTRO's Library and Archives, non-circulating materials and resources are open and available for use by the public at large, irrespective of CUNY affiliation. CENTRO's programs and services are similarly open to the broader community in New York City and beyond. Since its inception, the institute has served as a site of encounter and collaboration between university affiliates and community members.

About Hunter East Harlem Gallery

Hunter East Harlem Gallery is a multidisciplinary space for art exhibitions and socially minded projects. Located on the ground floor of Hunter College's Silberman School of Social Work at 119th Street and 3rd Avenue, the gallery presents exhibitions and public events that foster academic collaborations at Hunter College while addressing subjects relevant to the East Harlem community and greater New York City. The gallery seeks to initiate partnerships with publicly oriented organizations and focuses on showcasing artists who are engaging in social practice, public interventions, community projects, and alternative forms of public art. Since its inception in 2011, all exhibitions and programs at Hunter East Harlem Gallery are free and open to the public.