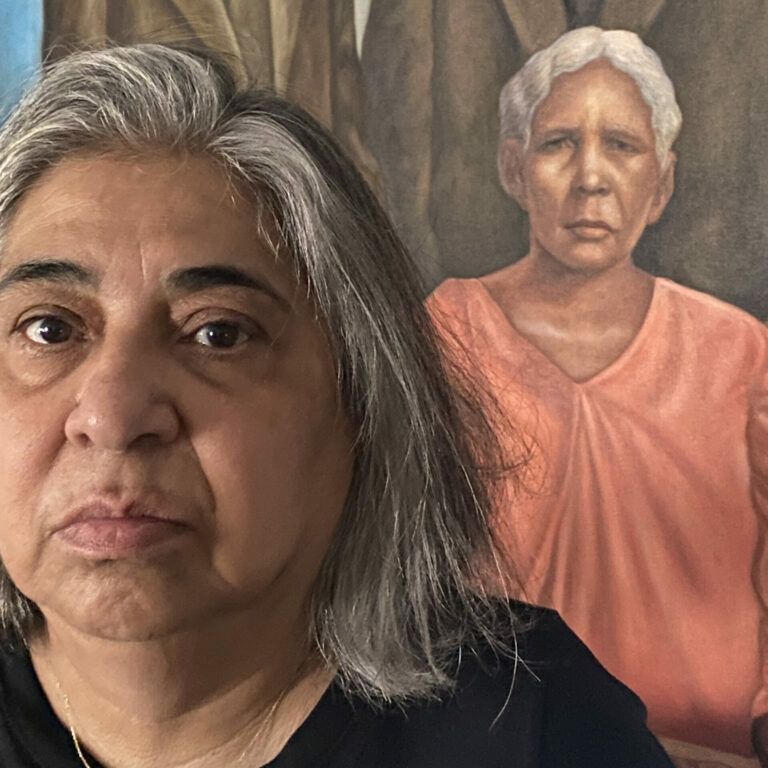 Nitza Tufiño
Contact
Nitza Tufiño (1949) was born in Mexico City, the first child of late Puerto Rican artist, Rafael Tufiño and Mexican dancer and model, Luz Maria Aguirre, who was part of the "Friedos" in the late 40's. Nitza moved to San Juan, Puerto Rico when she was one, and after her parents divorced she constantly traveled between her father's home in San Juan and her mother's in Manhattan.
During her early childhood, it was evident to both her parents that Nitza inherited her father's artistic gene, and her mother's love of Hispanic culture. After graduating from high school in Puerto Rico, her mother insisted that she study art at the Academia San Carlos in Mexico City, that was also her father's Alma Mater.
During her college years in Mexico she was privileged to meet Alfaro Siquieros, who was instrumental in inspiring her to understand and love the world of murals. It is because of Siquieros, that she chose to become known first as a muralist and public artist. It is because of her father's influence and family tradition, that she also excelled in printmaking.
Upon receiving her BFA in 1970 she decided to settle in Manhattan, where she worked as an artist. In 1973 she created her first public mural for the façade of then community-based El Museo del Barrio, of which she is a founder as an artist activist, that is now located on New York's Museum Mile on 5th Avenue.
During the 1970s she also served as a consultant on Puerto Rican and Caribbean art at the Brooklyn Museum and the Metropolitan Museum.
In the early 1980s she returned to school and obtained an M.S. in Urban Affairs from Hunter College with the support of a fellowship from the U.S. Department of Housing and Urban Development (HUD). Her career as a muralist and public artist flourished and was commissioned by educational institutions and governmental agencies, that include the two subway train stations within the Metropolitan Transit Authority, the Health and Hospitals Corporation both from New York, La Guardia Community College in New York, Trinity College in Hartford, Connecticut, the Hospital for Special Care in New Britain, Connecticut. As resident artist teaching art and design at the Central Connecticut State University, she developed and created the first murals public art program at CCSU.
She has been the recipient of many awards throughout her four decades as an artist that include: the Donald G. Sullivan Award from the Department of Urban Planning, Hunter College; the Mid-Atlantic Endowment for the Arts Regional Award, from the Mid-Atlantic Arts Foundation; the New York's Foundation for the Arts Artist Fellowship; the Puerto Rican Legal Defense and Education Fund for Outstanding Contribution to the Arts Award in conjunction with Mayor David Dinkins of New York; New York City Council's "Excellence in Arts" Award given by Council President, Andrew Stein and the Manhattan Borough President's Excellence and Outstanding Achievement Award given by Manhattan Borough President Ruth Messinger, among others.
Tufiño's commitment to public art led her to be recognized as El Taller Boricua's first female artist in 1970, and has been involved with El Taller since that time. Nitza is also a proud member of "El Consejo Grafico", a national coalition of Latino printmaking workshops and individual printmakers.
Featured Work: