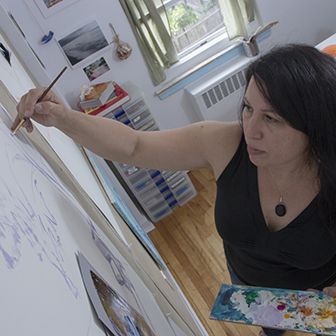 Josie Gonzalez
Contact
Josie Gonzalez (b. NYC, NY) is a Puerto Rican/Borikéña painter, muralist and designer who lives and works in New York City. As a teen, she apprenticed under artist Jorge Soto Sánchez at Taller Boricua/the Puerto Rican Workshop collective in East Harlem, New York and later worked as a muralist with the CITYarts Mural Workshop and the Murals in the Parks program.
Gonzalez continued to embrace her interest in building and representing community through artwork by collaborating on numerous community projects and commissions throughout the New York City area, and partnering with local organizations, neighborhood groups, schools, libraries, and local businesses. Among her public art commissions is a faceted glass window installation at the Woodlawn Avenue station in the Bronx commissioned by the New York MTA Arts for Transit program; a collaborative design translated into a ceramic tile installation for the NYC Department of Education Sites for Students Program, P.S. 54, Bronx, NY; and an installation for The New York Public Library, Chatham Square Branch, NY.
In addition to her commitment to public art and community building, Gonzalez has worked with The Metropolitan Museum of Art, Bronx Children's Museum, the New-York Historical Society, most recently at El Museo del Barrio creating community art education programs. Her work has been featured in NYC galleries and the Employee Art Show at The Metropolitan Museum of Art and the New-York Historical Society.
Currently, Gonzalez is completing an M.A. in Museum Studies at the CUNY School of Professional Studies and has work on view in the virtual exhibition 'Picturing America' at the Mount Vernon Hotel Museum.
Featured Work: