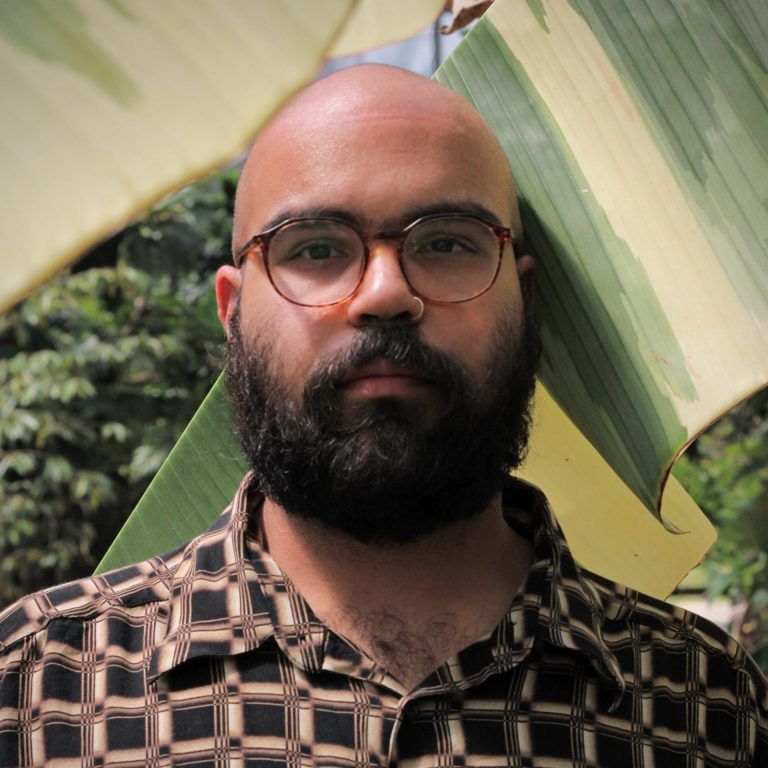 Jacoub Reyes
Contact
Jacoub Reyes is a printmaker and installation artist living in Plantation, Florida. Reyes was born into a divided household to a Cuban/Puerto Rican mother and a Pakistani/ Indian father. Throughout his early development, he carried two sets of foundation pillars: two names, two religions, two separate friends, and families. This started his pursuit of investing in community outreach, decolonizing education, and raising awareness of the inequities found in his community, the Caribbean, and the United States.
Reyes lives a diasporic experience despite being born in the States. His practice continues to redefine the word "rejection." Rejection of colonial expectations, image-making, what Caribbean art is or should be, and capitalist mindsets. His practice reflects these ideals by finding materials, making tools, and printing without a press. His large woodcuts use religious iconography and parables to mark a quintessential cultural, language, and identity shift that set forth a racist and unequal hierarchy for black and brown people. With this, he aims to re-contextualize narratives and traditional colonial imagery. His practice involves disintegrating guilt-ridden propaganda to find a world that functions on equity and diversity.
Jacoub Reyes hosts independent workshops and collaborative projects in the Greater Miami community. He is currently the Artistic Director for the City of Boynton Beach's Quantum Eco-Park and President of the Florida Printmakers Society. Reyes is a recipient of the Foundation for Contemporary Arts Emergency Grant, 4Culture Grant, Broward County's Artist Innovation Grant, The Puffin Foundation, The Pew Collective Grant, Allies in Arts Grant, Artist Relief Grant, Immerse Artist Grant, Awesome Grant, Southern Graphics International Grant, and J.R. Hopes Scholarship. His work is held in several public and private collections, including MassArt, Morgan Conservatory, UCF, Frontera Galeria Urbana, The City of Orlando's Public Art Collection, The Miami-Dade Public Library System's Permanent Art Collection, MDPLS Zine Library, The Vasari Project, and Hoopsnake Press. He has exhibited regionally, nationally, and internationally. Notable exhibitions include the International Print Center New York, Umbra: New Prints for a Dark Age juried by Alison Saar, La Sagrada Botanica Installation hosted by Creative City Project, Tres Gatos Press Residency and installation in Guadalajara, Mexico, Puerto Rico, PaperWest juried by Willie Cole, and 3rd PaperWest juried by Sam Vernon. Artist residencies include Alfred University's BIPOC Artist Residency, University of California, San Francisco Library Artist in Residence, American Landmark Artist in Residence Program, Ma's House BIPOC Residency in Shinnecock Nation, among others. Reyes has worked as a visiting artist and lecturer in museums, fine art print shops, and universities. He holds a BFA in Drawing and Printmaking from the University of Central Florida.
Featured Work: