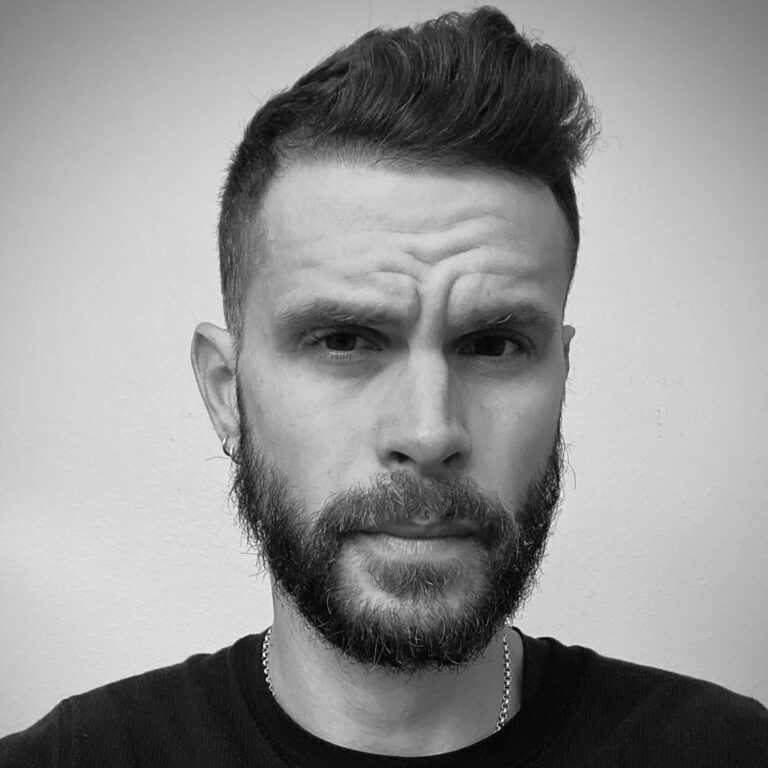 Andrè Pagano
Contact
Andrè Pagano's hue strokes of profundity and introspection are rooted in a confrontation with himself after many stages of learning and practicing his craft since he was a youngster, while coping with a specific kind of sexual abuse incidents by one of his mentors at the time. His life memories affected the path of his painting process and the pursuit of a career in the art world. At the expense of these occurrences, he has struggled to put together a relationship with painting. Evolving fractures have represented Andrè's life and dream, enabling his talent to reach full potential. His pictorial output evokes Vincent Van Gogh's emotional intensity and mental struggles. His mastery of chiaroscuro embodies the drama and violent sensuality of a contemporary Caravaggio.
Beyond the saturated and variegated landscape that framed his youth, cultural images also held a formational and political significance. Being Puerto Rican, one is a blend of three distinct cultures and races and the mix of those cultural signifiers have been ever-present, and at times confusing, given the cultural erasure and forced identity politics imposed by colonizers.
Pagano's body of work reflects the diversity of his history, using a mix of techniques and practices to engage a viewer on a multitude of levels. His image-making is rooted in both traditional figurative painting, poignant memories, spiritual rituals and his inclination to imagine characters that overwhelm his psyche.
Scale is also an important aspect of his work, paintings that impact not just the eyes, but the viewer's physical body. Using a multitudinous array of colors and spontaneous brushstrokes as a base layer, Pagano's paintings manifest through the accumulation of techniques that employ unlikely materials to create a formulaic complexity to match the depth of images while synthesizing history. By remixing cultural iconography, religious motifs, historical references, and images culled from his memories, Pagano creates large-scale figurative paintings that confront the viewer both compositionally and thematically. Addressing themes of Latinx and native identity, cultural displacement, and Colonial erasure, Andrè uses a bold palette and large format, to highlight and re-contextualize culturally significant imagery. By aggrandizing lost images and infusing color back into diluted histories, his imposing figures with their saturated and relentless gaze, demand the viewer's contemplation, if not a reckoning.
Drawing from personal experiences and his native Antilles complex colonial history, Andrè Pagano brings into play Afro-Caribbean, native Taíno, and Spanish influences to weave his own interpretative tapestry that reflects a diverse but fractured Latinx identity. 
Andrè Rodríguez Pagano is an Antillean visual artist born in 1983 in San Juan, Puerto Rico. He began his formal art training at the age of 6 and spent the entirety of his childhood in artists' ateliers apprenticing for famed Puerto Rican artists Domingo García and Andrés Bueso. He attended the Central School of the Visual Arts High School in San Juan, Puerto Rico, graduating in 2001 with High Honors in a Concentration in Sculpture. In 2006, he received his BFA in Painting & Photography from Escuela de Artes Plásticas y Diseño de Puerto Rico. Eventually, he moved to New York City and apprenticed for Mexican artist Bosco Sodi.
Today, Andrè is pursuing his art full-time and focused on the powerful stories that his images represent and how painting has reshaped his past and continues to forge his future in his life and its meaning. Andrè lives and works between NYC and Puerto Rico.
Featured Work: