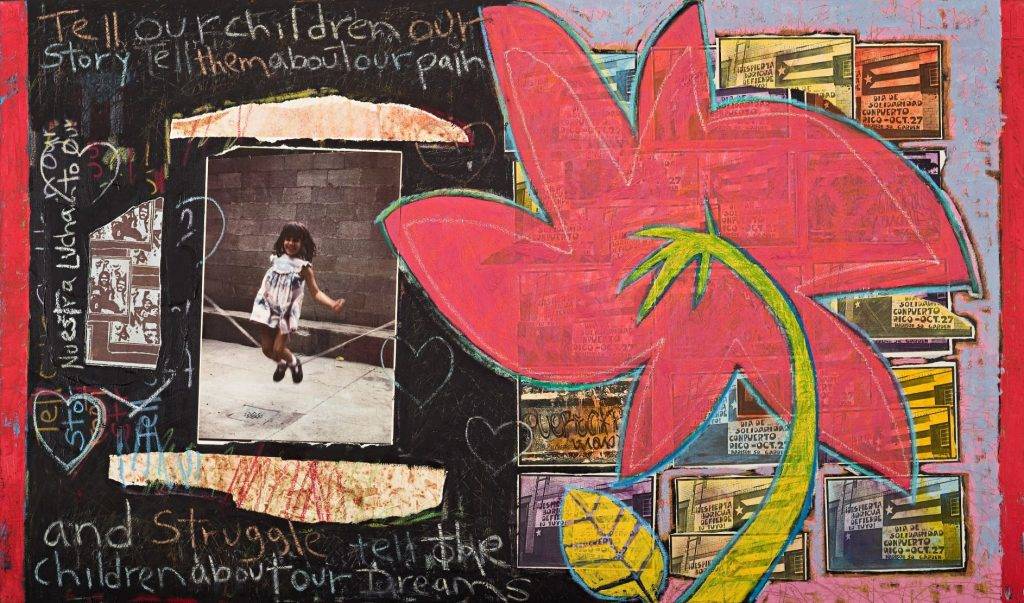 Join us on Thursday, June 16th at 4 PM and Friday, June 17th through Saturday, June 18th starting at 11 AM EST for Jornadas Educativas – 2nd Conference on Art, Research, and Multidisciplinary Creation. In this event, the applicants of our collaborative call with el Museo del Arte de Puerto Rico will come together to showcase their work surrounding community educational experiences inside and outside creative disciplines in Puerto Rico and throughout the diaspora. The themes included in our panelists presentations include education, multidisciplinary creation and pedagogy, art, learning, research, teaching and learning processes in and outside of museums, and educational institutions, exhibition design and critical pedagogies, education and curatorship, contemporary and experimental pedagogical processes, learning and ancestry, past, present and future methodologies, and other fields of research that sheds light on these issues. The conferences and panels of this 2nd edition, critically explore how creativity reformulates learning spaces and community experiences inside and outside the creative disciplines both in Puerto Rico and in its diasporas.
Tune into this 3-day long presentation to learn all about their work, impact, and influence across disciplines. Bilingual services will be provided!
PROGRAM
Thursday
4PM: Prologue to Creatives Pedagogies: A Manifesto by the Creatives Pedagogies Team of MAPR
This panel showcases the Creative Pedagogies Research, Teaching and Mediation team of the Museum of Art of Puerto Rico as they present their reflections on the year after its launch.
Friday
11AM: AmeRican: Paintings/Collages/Videos – Juan Sánchez
Juan Sánchez mixed media paintings, works on paper and videos are visually layered and loaded. They speak to issues concerning Puerto Rico, NeoRican identity, and the struggle against colonialism. They are cultural, political, historical, as well as autobiographical. Sánchez uses various painting, drawing and collage techniques through color, surfaces, photographic and appropriated images, and text with the complexity of abstract, formal, and conceptual visual language. His art is like streams of consciousness penetrating through the cries, angst, rebellion, and struggle for self-determination. They also celebrate our heart, breath, aspirations, and life affirming spirit. As an educator and as an artist, Sánchez will share with us his experience on learning and unlearning.
1 PM: Creating from Zero – Joseph Cáceres, Lois Elaine Griffith, Vallerie Matos
This panel will explore African American and Afro-Caribbean diasporic religious practices and their centrality in the construction of Nuyorican artists' anticolonial aesthetics. The panel will be framed by Nuyorican Poets' Cafe and the Nuyorican Arts Movement founder, Miguel Algarín's 1981 essay, "Nuyorican Literature," where Algarín defines Point Zero as the source of Puerto Rican literature's vibrancy.
4PM: Landscape and Sovereignty – A Three-Part Presentation by Alexandra Meléndez, Marie Cruz Soto, Rafael Capó
Environmental Sensitivity as Pedagogical Practice
The works of Fred Wilson, Zilia Sánchez, and Poli Marichal create a dialogue as a way of teasing out the intricacies of some of the most pervasive environmental/political issues facing Puerto Rico today. These include: legacies of colonialism/extraction, toxicity, energy sovereignty, and the reclamation of ancestral knowledge. This talk will model a pedagogical approach that focuses on close looking as a way of co-creating meaning and building dialogue.
Visual Sovereignty in Vieques, Puerto Rico
This panel explores how photography can be used to open conversations and create a language for decolonization in Vieques. "Visual Sovereignty in Vieques" is based on a project that brings together community members through conversation about Vieques. Participants go on walks and take photographs of the Viequense landscape—however broadly or narrowly defined. Afterwards, the community members reconvene to retake the dialogue on Vieques through the sharing of experiences and images.
Disrupting the official curriculum: Colonial monuments as pedagogical resources
The purpose of this intervention is to promote anti-racist, inclusive, and diversity of our collective identity and historical heritage. I end by sharing appreciations on the pedagogical opportunities generated by the collapse of the statue of Ponce de León and how the interrogation of public art can stimulate new appreciations about the past, present, and future of Puerto Rico.
Saturday
11AM: Displacements: Footprints and Memory — A Three-Part Presentation by Melanie Maldonado, Ángel Iván Rivera Morales, Perla de León and Wanda Benvenutti
Coloring Outside the Lines: creating visibility for marginalized diasporic artists and Afrodescendant communities
Artists occupy the liminal spaces of society, both observing and reflecting it. This panel will discuss the experiences of elderly tradition bearers for Bomba who exist in the margins of cultural production often unseen and unheard in Puerto Rico. (Dis)Similarly, academically and self-trained visual artists struggle to be seen in the shadow of Central Florida's theme park culture. Melanie Maldonado will share her work to center seniors on the Island who are the last linkages to traditional Bomba practices – including the spaces and places their ancestors drummed, sang and danced. She will detail her work to visibilize these Black history sites of Bomba culture through a Lugares Históricos project. Ángel Rivera Morales provides a parallel narrative of work in the Diaspora to highlight Puerto Rican painters, sculptors and multimedia artists who are living in relative obscurity due to the limited opportunities to showcase their work in Greater Orlando. Rivera Morales will outline the steps he has taken to gather local artists and connect their work with the institutions and gatekeepers that can help bring exhibition opportunities. Both these presentations will review unconventional ways in which they have been successful in helping these culture bearers and producers receive access and opportunity.
Arts & Education under Terrorist Policies
By the 1960s, New York City's Puerto Rican population numbered 1 out of every 8 citizens yet Social Studies and History books never identify Puerto Rico, much less Puerto Ricans. By the mid-1970s, NYC was approaching bankruptcy, a crisis that politicians attempted to solve by implementing policies like closing over 50 fires houses in poor neighborhoods (most occurred in the South Bronx) where over 600 fires would create a 'concentration camp of fires' for Black and Puerto Rican working class families whose children were stripped of all arts and sports programs, at a time of most need for expression and release from communal trauma. In a war zone where 80% of South Bronx housing burned to the ground, Black and Puerto Rican youngsters created a revolutionary series of art forms through DJs, MCs, Grafiti, Rap, Beat Boys and Salsa, art forms that traveled the world and continue to the present.
American Boricua: Puerto Rican Life in the United States
For the past 20 years Bevenutti have been on the road, conducting research and making photographs of Puerto Ricans from all walks of life for her first book, American Boricua:
Puerto Rican Life in the United States, the first multidisciplinary document of the Puerto Rican Diaspora in all 50 of the United States. In a time when the forces of fear and ignorance threaten the safety and dignity of many of our communities, American Boricua's message of cultural unity serves to celebrate our common humanity. The opportunity to educate by inviting audiences to see their world differently is a large part of her mission in creating this body of work.
1 PM: Caribbean Archives – Natalia Gulik, Ana Teresa Solá Riviere and Paula Roque
This table presentation will focus on the work Archivos del Caribe has done so far with community archival efforts in Puerto Rico and its diaspora, with a particular focus on its current oral history project in Cayey and how this youth-led creative effort has renewed public historical education and strengthened community documentation efforts. Archivos del Caribe is a collective dedicated to creating and preserving Caribbean culture by means of historical documents and contemporary material, seeking to encourage individuals to reimagine a Caribbean through the different intersections of colonial policies and political endowments.
4 PM: Arts of Catastrophe – Frances Negrón Muntaner
Artist, curator, and scholar Frances Negrón-Muntaner will share from her work-in-progress titled "Arts of Catastrophe." In this essay, she investigates how, why, and to what effects neoliberal coloniality has created the conditions for art and artists to become a more central part of what she calls the "arts of catastrophe," or the ways that people, communities, and networks foster joy, learning, and life in the ruins of disaster. In this formulation, Negrón-Muntaner defines art as a "mode of inquiry" rather than an aesthetic object or form and differentiates catastrophe–a moment of overturning–from disaster, defined as the alignment of circumstances that leads to the devastation of life, places, and relations. In this epistemic and political transition, what is at stake is not simply a change in curriculum, or a different way of seeing or making art. Instead, it is what is built or left to ruin; who dies and who lives.