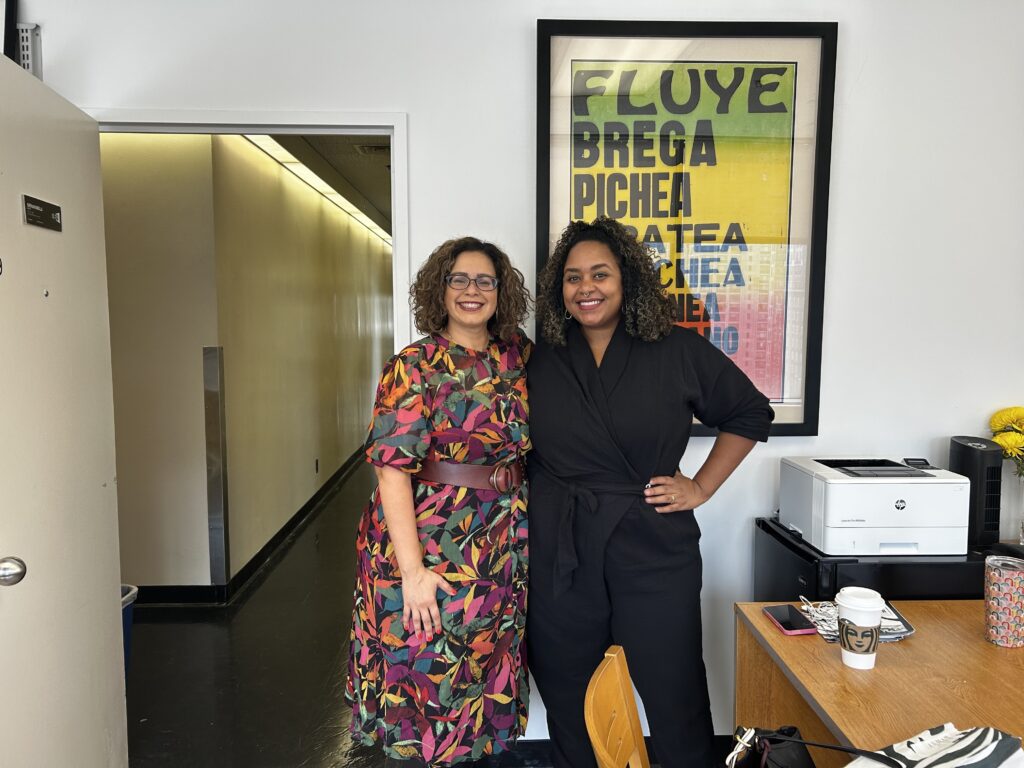 Image by CENTRO communications team
The entire team at CENTRO is pleased to share that award-winning writer and scholar, Dr. Yomaira Figueroa, has been appointed the next Director of the Center for Puerto Rican Studies at Hunter College (CENTRO).
Dr. Figueroa currently serves as Associate Professor of Global Afro-Diaspora Studies at Michigan State University. She brings with her a wealth of knowledge, expertise, and a deep understanding of the complex dynamics of Puerto Rican community affairs in the United States. She continues to make significant contributions to the field through publications like Decolonizing Diasporas: Radical Mappings of Afro-Atlantic Literature (Northwestern, 2020) and her leadership of the Mellon Diaspora Solidarities Lab, a $2 million project focused on Black feminist digital humanities initiatives. Her forthcoming book, The Survival of a People (Duke University Press), is anticipated to become a classic work in the field, addressing the Afro-Puerto Rican experience and its historical absence in the archives.
"I am honored to serve as director and to work alongside the exceptional CENTRO staff as we attend to some of the most pressing needs of the Puerto Rican community across the archipelago and the diaspora," said Figueroa. "CENTRO is a critical part of our cultural and intellectual heritage and I'm looking forward to continuing its groundbreaking legacy of fostering research, programming, arts, and community outreach."
Dr. Figueroa will begin her tenure in Fall 2023 and will succeed Dr. Yarimar Bonilla, who served as Interim Director for the past two years. Bonilla will be embarking on a new chapter as a Professor at Princeton University's Effron Center for the Study of Americas and a monthly contributing writer for the The New York Times. Bonilla joined Hunter College in 2017 as a faculty member in the Department of Africana, Puerto Rican, and Latino Studies. She was named Interim Director of Centro in 2019 by Hunter College President, Jennifer Raab.
Since the start of Bonilla's directorship at CENTRO, the impact of her work has been significant and wide-ranging. She led CENTRO through a strategic planning and visual rebranding process to reconnect with the institution's original mission and values while foregrounding inclusivity, accessibility, and interdisciplinarity.

She also established CENTRO's Arts & Culture Hub, which launched new artistic residencies, research initiatives, and public programs in partnership with cultural institutions across New York like Lincoln Center, El Museo Del Barrio, and the Schomburg Center as well as organizations in Puerto Rico such as the Museo de Arte Contemporáneo and the Museo de Arte de Puerto Rico.
Additionally, Bonilla founded Bridging the Divides, which is funded by the Mellon Foundation, a research program inspired by the work of CENTRO's original task forces. This initiative aims to overcome long-standing divisions that have served as roadblocks to the development of Puerto Rican Studies by convening scholars, journalists, and artists from across different geographic locations and disciplinary traditions.
Perhaps most impressively, Bonilla has secured over 25 million dollars in grant funding, as well as the recently announced $20 million in capital funding from Governor Hochul, for CENTRO, which has allowed the organization to grow and thrive, both in personnel and programming, as it celebrates its 50th anniversary.
"It was an honor and a privilege to have been able to lead CENTRO in this cusp of its 50th anniversary and to have helped transform it into a more inclusive, interdisciplinary, and well-resourced space" said Bonilla. "However, I am excited to pass the baton to Yomaira, whose work I have long admired, and to work directly with her to reimagine institutional transitions from a Black Feminist and Decolonial lens."
Bonilla's final day as Interim director at CENTRO is June 30, but she will stay on through 2024 the lead coordinator for the Bridging the Divides program.
"My commitment to CENTRO does not end on June 30" assured Bonilla, "I intend to be a life-long champion of our scholarly commons and a fierce advocate for its continued growth and success."
About the Center for Puerto Rican Studies (CENTRO)
Founded in 1973 by a coalition of students, faculty, and activists, the Center for Puerto Rican Studies at Hunter College (CENTRO) is the largest and oldest university-based research institute, library, and archive dedicated to the Puerto Rican experience in the United States. It provides support to students, scholars, artists, and members of the community at large across and beyond New York. Additionally, it produces original research, films, books, and educational tools and is the home of The Centro Journal—the premiere academic journal of Puerto Rican Studies. CENTRO's aim is to create actionable and accessible scholarship to strengthen, broaden, and reimagine the field of Puerto Rican studies.
CENTRO is a treasured institution where researchers, academics, teachers, students, genealogists, filmmakers, and the community at-large find primary (historical documents) and secondary sources about the history and culture of the Puerto Rican diaspora. Most facilities, resources and programs in the City University of New York (CUNY) system are limited to affiliates of the University. In the case of CENTRO's Library and Archives, non-circulating materials and resources are open and available for use by the public at large, irrespective of CUNY affiliation. CENTRO's programs and services are similarly open to the broader community in New York City and beyond. Since its inception, the institute has served as a site of encounter and collaboration between university affiliates and community members.