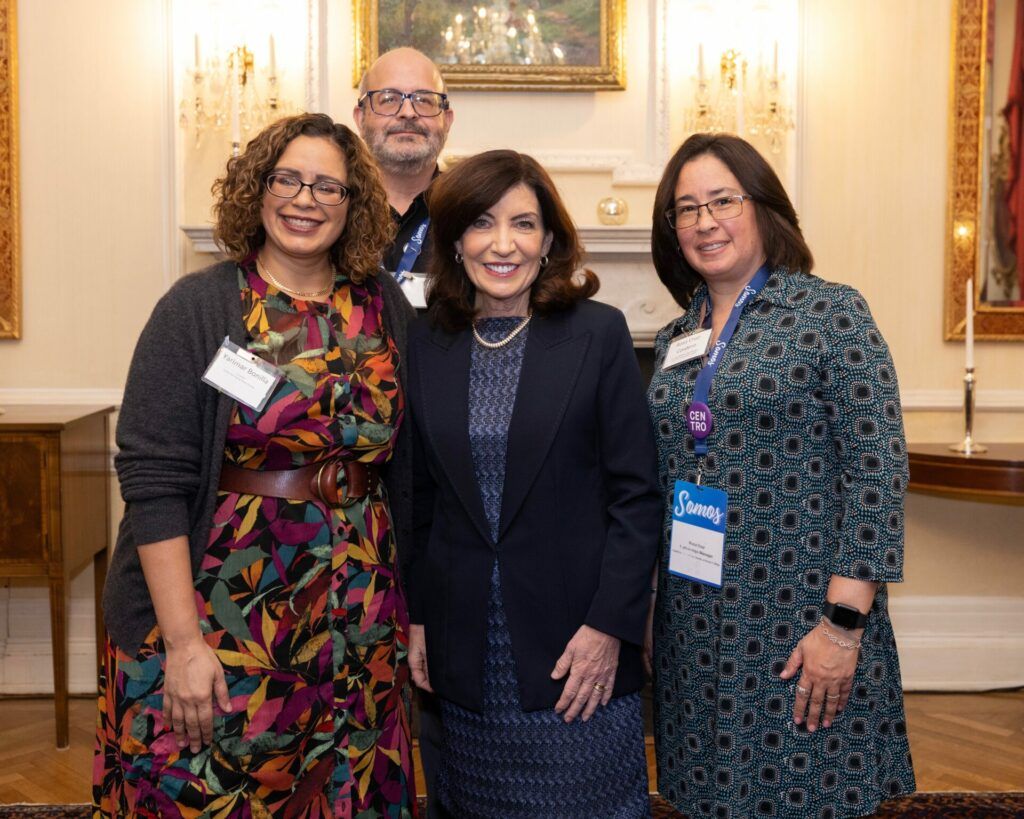 These funds will provide tools to continue developing programs that will impact the preservation and accessibility to our history and cultural contributions.
Governor Kathy Hochul announced on Friday March 10, 2023 at the SOMOS Governor's Reception in Albany an allocation of $3 million in funding for Center of Puerto Rican Studies (CENTRO) at Hunter College and the Dominican Studies Institute at City College to support ongoing operations and initiatives to preserve the culture and history of Latino New Yorkers.
"We are thrilled to receive these generous funds from the governor of New York. This funding will allow us to continue to preserve and make available our archival collections, and to continue our arts and culture programs that give voice to the Puerto Rican experience and the contribution they provide to the rich cultural fabric of New York." said Yarimar Bonilla, Directora of CENTRO.
The funding will support CENTRO's ongoing efforts to digitize and make accessible its vast collections of Puerto Rican historical documents and artifacts, which include photographs, manuscripts, newspapers, and other materials dating back to the 19th century. In addition, the funding will enable Centro to expand its research initiatives and arts and culture programs, which promote understanding and appreciation of Puerto Rican history and culture.
"Gov. Hochul's vital funding is a fitting tribute to CENTRO in its 50th-anniversary year," said Hunter College President Jennifer J. Raab. "CENTRO has kept alive the culture and heritage of New York's Puerto Rican community for the past half-century, and these funds will help deepen and extend that mission for the next generation and beyond."
"Here in New York, our diversity is our strength, and right at the center of that is the impact Latino New Yorkers have had on our state," Governor Hochul said. "From music and food to arts and dance to science and medicine, the very best parts of New York have all changed for the better because of these contributions. I'm proud to announce this funding to support efforts at Hunter College and City College to keep telling these stories and passing on the culture for future generations."
With this generous support from Governor Hochul, our dedicated Assemblymembers in the NYS Puerto Rican/Hispanic Task Force, CENTRO will continue to be a vital resource for researchers, scholars, students, and community members interested in the history and culture of Puerto Ricans in the United States.
About the Center for Puerto Rican Studies (CENTRO)
Founded in 1973 by a coalition of students, faculty, and activists, the Center for Puerto Rican Studies at Hunter College (CENTRO) is the largest and oldest university-based research institute, library, and archive dedicated to the Puerto Rican experience in the United States. It provides support to students, scholars, artists, and members of the community at large across and beyond New York. Additionally, it produces original research, films, books, and educational tools and is the home of The Centro Journal—the premiere academic journal of Puerto Rican Studies. CENTRO's aim is to create actionable and accessible scholarship to strengthen, broaden, and reimagine the field of Puerto Rican studies.
CENTRO is a treasured institution where researchers, academics, teachers, students, genealogists, filmmakers, and the community at-large find primary (historical documents) and secondary sources about the history and culture of the Puerto Rican diaspora. Most facilities, resources and programs in the City University of New York (CUNY) system are limited to affiliates of the University. In the case of CENTRO's Library and Archives, non-circulating materials and resources are open and available for use by the public at large, irrespective of CUNY affiliation. CENTRO's programs and services are similarly open to the broader community in New York City and beyond. Since its inception, the institute has served as a site of encounter and collaboration between university affiliates and community members.