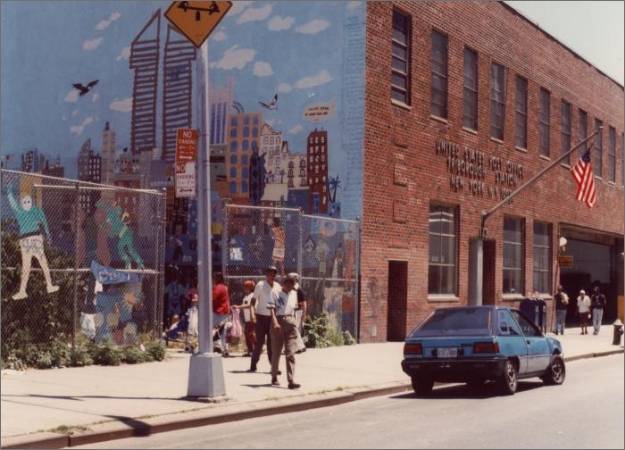 The Center for Puerto Rican Studies (CENTRO) at Hunter College (CUNY) has received $792,000 in federal funding as part of a $1.7 trillion omnibus bill signed into law by President Biden last month. The funds will be used to develop an accessible learning and creative hub in El Barrio, a neighborhood within New York's 13th Congressional District represented by Congressman Adriano Espaillat.
"This is an incredible opportunity. CENTRO has been very eager to make its much-needed resources accessible across and beyond El Barrio, particularly during this time of social transformation as residents battle rising gentrification and the lingering effects of with COVID-19," said Yarimar Bonilla, CENTRO's Director and a professor in Hunter's Department of Africana & Puerto Rican/Latino Studies. "Thanks to the dedicated support and drive of Representative Espaillat, Senator Chuck Schumer, and Senator Kirsten Gillibrand this is now possible."
Often seen as an iconic Puerto Rican neighborhood, El Barrio has been home to the uptown campus of Hunter College, including CENTRO's Library and Archives, for the last 15 years. CENTRO has prioritized building a strong relationship with the surrounding community, which is predominantly Hispanic and of Caribbean and African descent.
Despite enduring challenges, El Barrio-East Harlem has remained a culturally diverse neighborhood brimming with local cultural centers, community programs, and performances in gardens and parks. It is known for its lively murals that capture the spirit of an enduring community. With such a vibrant history that is still being written, it is imperative that CENTRO makes its services accessible by opening the doors to its Library & Archive and expanding its public programming to a community that has been essential to the cultural and social fabric of New York City.
"CENTRO is keenly aware of the deep need for culturally sensitive educational programming in communities like El Barrio" added Bonilla. "We look forward to engaging with residents on a much deeper level and returning to our roots of taking the mystery and oppression out of learning while bringing the community into the university."
The dedicated funds will serve to create a direct door for the community to access CENTRO's library, archives, historical and scholarly resources, and educational programs. The hub will include educational workshops for local school districts and public libraries. Additionally, there will be an expansion of public programs around arts and culture such as book presentations, poetry readings, art exhibits, and live performances.
Since 1973, CENTRO has remained a beacon for Puerto Ricans of the diaspora in New York and across the country as an institution creating actionable and accessible scholarship to strengthen, broaden, and reimagine the field of Puerto Rican studies. With the largest digital archive in the entire CUNY system, the institute has carved a pathway for educators, scholars, and researchers looking to deepen and expand their learning through free digital programs. Because of this, CENTRO has served as the main site of consultation for scholars, journalists, filmmakers, and artists seeking to understand and represent Puerto Rican history.
With its 50th Anniversary on the horizon, CENTRO is hoping to raise an additional $5 million by the end of 2023 to secure its next 50 years as a leader in preserving Puerto Rican history, deepening the national understanding of the Puerto Rican experience, and reimagining the field of Puerto Rican Studies from a decolonized lens.
President Biden signed the historic $1.7 trillion year-end spending bill for 2023 on Wednesday Dec 28th, 2022. The bill, which includes the aforementioned $792,000 of dedicated funds for CENTRO, also includes a budgetary designation for $1 billion to help restore Puerto Rico's crumbling electrical grid and approximately $314 million to support the Nutrition Assistance Program (NAP) for Puerto Ricans facing food insecurity, an effort led by Senator Kirsten Gillibrand.
To learn more about CENTRO's upcoming events and available learning resources, please visit centropr.hunter.cuny.edu.
About the Center for Puerto Rican Studies (CENTRO)
Founded in 1973 by a coalition of students, faculty, and activists, the Center for Puerto Rican Studies at Hunter College (CENTRO) is the largest and oldest university-based research institute, library, and archive dedicated to the Puerto Rican experience in the United States. It provides support to students, scholars, artists, and members of the community at large across and beyond New York. Additionally, it produces original research, films, books, and educational tools and is the home of The Centro Journal—the premiere academic journal of Puerto Rican Studies. CENTRO's aim is to create actionable and accessible scholarship to strengthen, broaden, and reimagine the field of Puerto Rican studies.
CENTRO is a treasured institution where researchers, academics, teachers, students, genealogists, filmmakers, and the community at-large find primary (historical documents) and secondary sources about the history and culture of the Puerto Rican diaspora. Most facilities, resources and programs in the City University of New York (CUNY) system are limited to affiliates of the University. In the case of CENTRO's Library and Archives, non-circulating materials and resources are open and available for use by the public at large, irrespective of CUNY affiliation. CENTRO's programs and services are similarly open to the broader community in New York City and beyond. Since its inception, the institute has served as a site of encounter and collaboration between university affiliates and community members.
About HUNTER College
Hunter College of the City University of New York, a distinguished public university, values learning in the liberal arts and sciences as a cornerstone of individual development and a vital foundation for a more just and inclusive society. Continuing our long tradition of expanding opportunity, we seek students from all backgrounds to engage in a rigorous educational experience that prepares them to become leaders and innovators in their communities and in the world. Hunter also contributes to intellectual discourse by supporting excellent scholarship and creative activity by its accomplished faculty.
Hunter undergraduate, graduate and professional curricula challenge students to think critically—to approach problems from multiple perspectives, distinguish the questions each raises, and recognize the kinds of evidence each values. The College's academic programs stress the significance of human diversity, emphasize research and artistic creation, and invite students to extend their education beyond campus. We cultivate the qualities our graduates need to thrive in their chosen careers and make a difference as active citizens.

We embrace our setting at the heart of New York City—we seek to draw on its energy, capitalize on its remarkable resources, weave it into the fabric of our teaching, research and creative expression, and give back to it through our service and citizenship.
About CUNY
The City University of New York is the nation's largest urban public university, a transformative engine of social mobility that is a critical component of the lifeblood of New York City. Founded in 1847 as the nation's first free public institution of higher education, CUNY today has 25 colleges spread across New York City's five boroughs, serving 243,000 degree-seeking students of all ages and awarding 55,000 degrees each year. More than 80 percent of the University's graduates stay in New York, contributing to all aspects of the city's economic, civic and cultural life and diversifying the city's workforce in every sector. CUNY's graduates and faculty have received many prestigious honors, including 13 Nobel Prizes and 26 MacArthur "Genius" Grants. The University's historic mission continues to this day: provide a first-rate public education to all students, regardless of means or background.