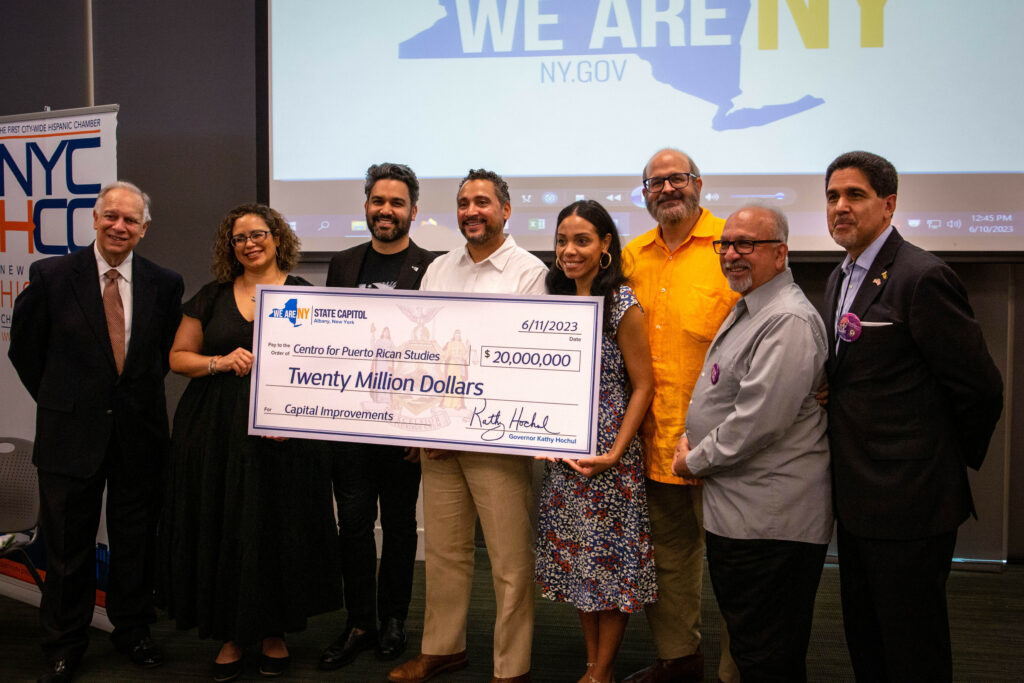 We are thrilled to share that New York Governor Kathy Hochul has announced an allocation of $20 million in capital funding for CENTRO! Capital funds can only be used for specific purposes such as acquiring assets like buildings, land, equipment, or making improvements to existing infrastructure. These funds serve as a catalyst for growth, development, and innovation within an organization or community.
Thanks to this extraordinary support, CENTRO will now have the opportunity to expand and reunite its operations under a single roof in a larger state-of-the-art space that will serve as the ideal home for our dedicated staff and scholars, our remarkable library, and ever growing archives.
This funding marks a significant milestone in our 50 year journey, empowering us to continue preserving and sharing our rich cultural heritage while producing scientific and humanistic knowledge for the benefit of the local and global Puerto Rican community. These funds will allow us to create a state-of-the-art community-facing archive, research hub and art space that fosters collaboration, innovation, and help us expand our reach to even more individuals eager to explore and celebrate our collective history and facilitate the creation of knowledge.
We extend our heartfelt gratitude to Governor Kathy Hochul and all those involved in securing this remarkable funding. Their commitment to supporting cultural organizations like CENTRO is a testament to the power of preserving our diverse narratives for generations to come!
We cannot wait to embark on this exciting new chapter and invite you to join us on this extraordinary adventure! Stay tuned for updates as we dive into the work of bringing our vision to fruition!
About the Center for Puerto Rican Studies (CENTRO)
Founded in 1973 by a coalition of students, faculty, and activists, the Center for Puerto Rican Studies at Hunter College (CENTRO) is the largest and oldest university-based research institute, library, and archive dedicated to the Puerto Rican experience in the United States. It provides support to students, scholars, artists, and members of the community at large across and beyond New York. Additionally, it produces original research, films, books, and educational tools and is the home of The Centro Journal—the premiere academic journal of Puerto Rican Studies. CENTRO's aim is to create actionable and accessible scholarship to strengthen, broaden, and reimagine the field of Puerto Rican studies.
CENTRO is a treasured institution where researchers, academics, teachers, students, genealogists, filmmakers, and the community at-large find primary (historical documents) and secondary sources about the history and culture of the Puerto Rican diaspora. Most facilities, resources and programs in the City University of New York (CUNY) system are limited to affiliates of the University. In the case of CENTRO's Library and Archives, non-circulating materials and resources are open and available for use by the public at large, irrespective of CUNY affiliation. CENTRO's programs and services are similarly open to the broader community in New York City and beyond. Since its inception, the institute has served as a site of encounter and collaboration between university affiliates and community members.