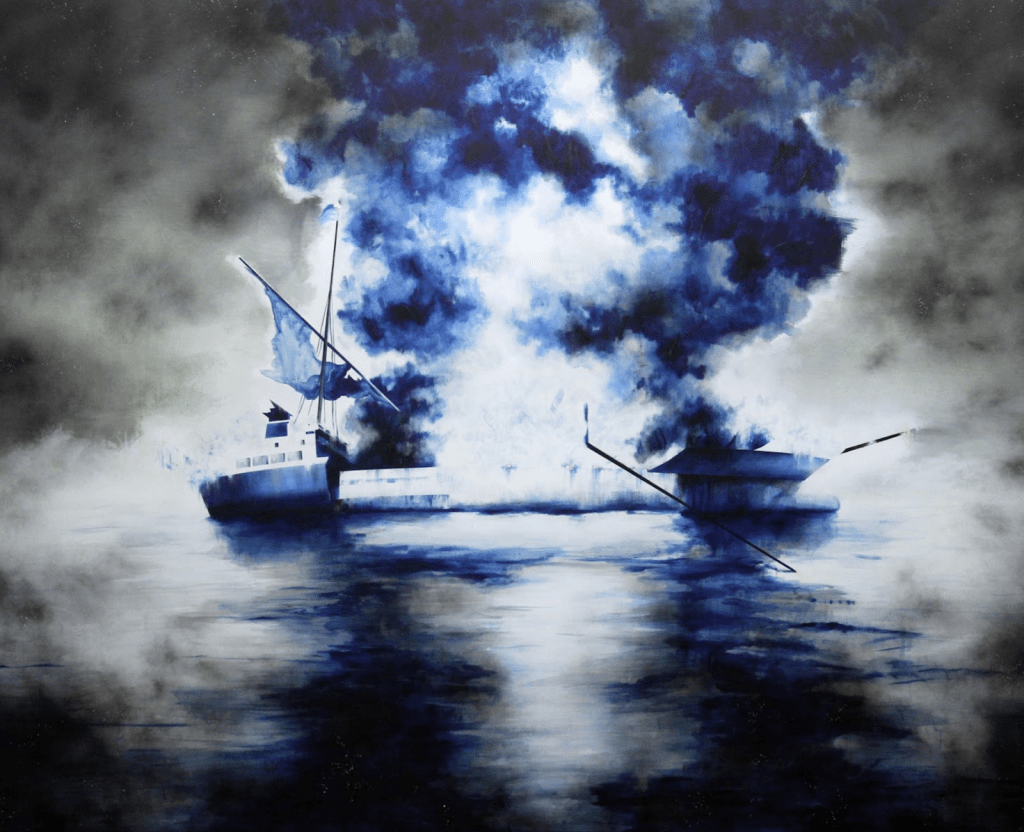 The Center for Puerto Rican Studies (CENTRO) is proud to announce the signing of a partnership agreement with the Whitney Museum of American Art in support of the upcoming exhibition, "no existe un mundo poshuracán: Puerto Rican Art in the Wake of Hurricane Maria,". Opening on November 23rd, the exhibition highlights over fifty works by an intergenerational group of twenty artists from Puerto Rico and the diaspora whose art responds to the transformation brought on by Hurricane Maria.
While Maria serves as a focal point, the exhibition is defined by the larger context in which the aftermath of the storm was further exacerbated by a chain of events that preceded and followed this (un)natural disaster, including the austerity measures implemented by the PROMESA law (also known as La Junta); the deaths of 4,645 Puerto Ricans as a consequence of the Hurricane; the protests during the Verano del 19 (Summer of 2019) that led to the ouster of governor Ricardo Rosselló; the string of earthquakes; the COVID-19 pandemic; and much more. "no existe un mundo poshuracán responds to these constant existential threats and offers a platform for artists who have forged through in the wake of these legacies.

"I can't think of a better institution for the Whitney to partner with, on the occasion of "no existe un mundo poshuracán" opening, than the Center for Puerto Rican Studies, at Hunter College. Soon to be 50 years old, El Centro has tirelessly provided the most relevant scholarship on a diverse range of themes related to Puerto Rico. At the Whitney, we are proud to be partnering with such a distinguished institution that has provided invaluable insights into Puerto Rican studies for nearly half a decade," says Marcela Guerrero, Jennifer Rubio Associate Curator, at the Whitney Museum.
CENTRO will provide the Whitney Museum access to its Disaster Research HUB. The HUB provides important information on Puerto Rico's ongoing disaster recovery efforts by providing data accessibility and a directory of initiatives and organizations. CENTRO will also cosponsor virtual conversations with featured artists. Learn more about the exhibit and HUB by visiting, https://whitney.org/exhibitions/no-existe
"This exhibition allows us to put our research at the service of those who come to the exhibition with the interest of thinking more about the Puerto Rican experience. Artists, through their investigative and creative processes, are the visual chroniclers of our time and context. For CENTRO, it is important to support projects that promote the visibility of the Puerto Rican experience in the U.S. especially in collaboration with institutions that have a high reach and presence in the American cultural world", said Ángel Antonio Ruiz Laboy, Director of Arts and Culture at CENTRO.