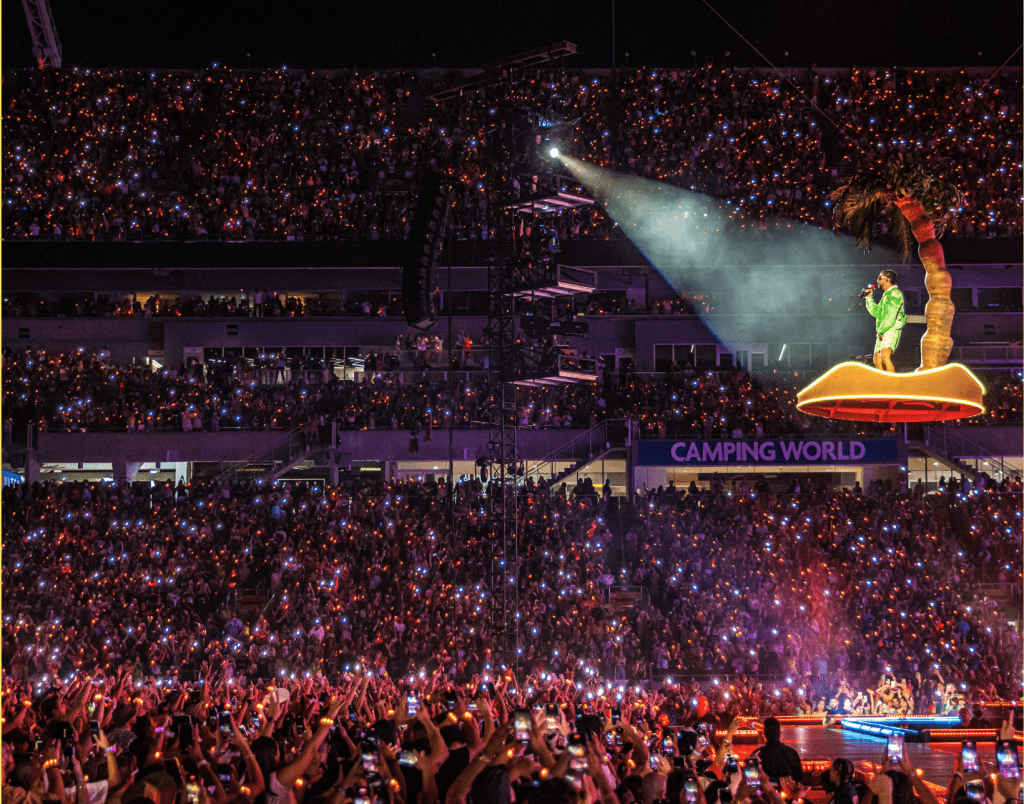 May 11-13, 2023, City University of New York
Organized by: CENTRO: The Center for Puerto Rican Studies
Puerto Rican mega star Bad Bunny has shaken up the music industry with his chart-topping songs, eye-catching performances, and thought-provoking videos, redefining for many what it means to be a Puerto Rican artist and celebrity. He had the first Spanish-language album to top the Billboard charts, was the first Spanish language act to win MTV's artist of the year, and was the first Latino to grace the cover of Billboard magazine. He has been named Spotify's most-streamed artist two years in a row and Apple Music's artist of the year– all while speaking to Puerto Rico's complex reality. His rise to fame has paralleled the archipelago's economic crisis, disasters, and emerging political movements with his music serving as a soundtrack to recent cultural and political transformations. However, not all Puerto Ricans celebrate him. While some see him as an icon of boricua pride, others wring their hands over his lyrics and question the source of his fame.
To examine the significance of the Bad Bunny phenomenon and its impact, CENTRO is hosting a Thinking with Bad Bunny symposium on May 11-13, 2023 at Hunter College in New York City. The event will bring together scholars and music industry leaders to discuss the role of reggaetón and trap as genres in Puerto Rican culture and society, the politics of race, gender, and Latinidad, the social context of Bad Bunny's music, including the impact of gentrification and displacement on Puerto Rican culture, and the role of celebrity in political activism (and vice versa).
Our two keynote speakers will be Dr. Petra R. Rivera-Rideau, author of Remixing Reggaetón: The Cultural Politics of Race in Puerto Rico and Dr. Jonathan Rosa author of Looking Like a Language, Sounding Like a Race: Raciolinguistic Ideologies and the Learning of Latinidad.
The event will feature curated panels and workshops but we also welcome proposals for roundtable presentations that engage with Bad Bunny's work in innovative and critical ways. We seek to involve a wide range of perspectives on topics such as the history and evolution of reggaetón and trap, the role of these genres in the diaspora, the formation and expression of Caribbean identity through music, and the politics of fashion, dance, album art, music videos, and cultural aesthetics.
Don't miss this opportunity to join us in thinking with Bad Bunny and exploring the cultural politics and future of Puerto Rico. Submit your proposal for a roundtable presentation and join the conversation at the symposium.
Deadline: February 27, 2023
Thinking with Bad Bunny: Cultural Politics and the Future of Puerto Rico
11-13 de mayo de 2023, City University of New York
Organizado por el Centro de Estudios Puertorriqueños
La megaestrella puertorriqueña Bad Bunny ha sacudido la industria musical y ha redefinido para muchos lo que significa ser un artista y una celebridad puertorriqueña. Sus canciones encabezan las listas de éxitos, sus actuaciones cautivan a las audiencias y sus videos invitan a la reflexión. Fue el primer álbum en español en encabezar las listas de Billboard, el primer creador de música en español en ganar el premio del artista del año otorgado por MTV y el primer latino en aparecer en la portada de la revista Billboard. Ha sido nombrado el artista más escuchado de Spotify dos años seguidos y el artista del año de Apple Music, todo ello mientras aborda la compleja realidad de Puerto Rico. Su salto a la fama ha coincidido con la crisis económica, los desastres y los movimientos políticos emergentes del archipiélago, y su música ha servido de banda sonora a las recientes transformaciones culturales y políticas. Sin embargo, no todos los puertorriqueños lo aclaman. Mientras algunos lo ven como un ícono del orgullo boricua, otros se echan las manos a la cabeza por sus letras y cuestionan la razón de su fama.
Para examinar la importancia del fenómeno de Bad Bunny y su influencia, CENTRO organizará el simposio Thinking With Bad Bunny, que se celebrará del 11 al 13 de mayo de 2023 en Hunter College, en Nueva York. El evento reunirá a académicos y líderes de la industria musical para debatir el papel del reggaetón y el trap como géneros en la cultura y la sociedad puertorriqueñas; la política de la raza, el género y la latinidad; y el contexto social de la música de Bad Bunny, incluidos el efecto de la gentrificación y el desplazamiento en la cultura puertorriqueña, y el papel de las celebridades en el activismo político (y viceversa).
Nuestros dos ponentes principales serán la Dra. Petra R. Rivera-Rideau, autora de Remixing Reggaetón: The Cultural Politics of Race in Puerto Rico, y el Dr. Jonathan Rosa, autor de Looking Like a Language, Sounding Like a Race: Raciolinguistic Ideologies and the Learning of Latinidad.
El encuentro constará de paneles y talleres, pero también son bienvenidas las propuestas de presentaciones de mesa redonda que aborden el trabajo de Bad Bunny de forma innovadora y crítica. Buscamos incluir una gran variedad de perspectivas sobre temas como la historia y la evolución del reggaetón y el trap, la función de estos géneros en la diáspora, la formación y la expresión de la identidad caribeña por medio de la música, y la política de la moda, el baile, el arte de álbumes, los videos musicales y la estética cultural.
No te pierdas esta oportunidad de unirte a nosotros para pensar con Bad Bunny y explorar la política cultural y el futuro de Puerto Rico. Envía tu propuesta para una presentación de mesa redonda y únete a la conversación en el simposio.
Fecha límite: 27 de febrero de 2023